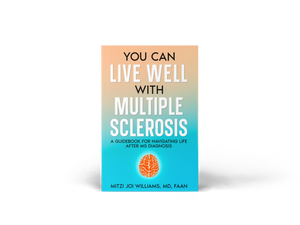 "You have multiple sclerosis." These four words automatically prompt lots of questions, uncertainty, and fear about the future. You may begin to wonder, what's next? What will your life look like now? Even with your new diagnosis, one thing you need to know is this: you can live well. 
You Can Live Well With Multiple Sclerosis is a step-by-step guide that empowers and educates those living with MS. Written by Mitzi Wiliams, MD, FAAN, a neurologist with over 15 years of experience in the field of multiple sclerosis, this book provides clear, concise guidance and more clarity and understanding about this complex disease. 
Being diagnosed with MS changes your life, but Dr. Mitzi equips and empowers readers with the right information and inspiration to live well without getting overwhelmed. Instead of turning to online searches that may provide conflicting information, Dr. Mitzi is a trusted source who advocates for people living with MS to share in the decision-making process with their healthcare teams to combat this disease.
This quick read is jam-packed with tips and tools to help you partner with your doctor and healthcare team to map out the best way to adjust to your "new normal." 
Not only will you get answers to your most burning questions from an MS expert, but Dr. Mitzi invites you to capture and reflect on important details as you embark on your MS journey. 
Find out all about:
How to prepare for medical appointments

Treatment options for MS symptoms

The impact of diet and exercise on MS

Maintaining physical and mental wellness with MS

Advocating for yourself 

…and much more step-by-step guidance! 
You Can Live Well With Multiple Sclerosis is an essential resource for anyone affected by MS, including the newly diagnosed, family members, and caregivers.